By Anup Keshruwala (B.P.T)
Upper, mid and low back pain can easily affect your quality of life.  Office workers suffer from back pain for a variety of reasons. A physiotherapist is an excellent resource to assist office workers with their back pain.
What are sprains and strains?
A back strain is an injury to either a muscle or tendon, while a back sprain is the stretching or tearing of a ligament. We will discuss the cause, treatment and prevention of these injuries.
What causes back pain in office workers?
The most common cause of back pain in office workers is postural stress. Poor sitting posture, prolonged standing or poor lifting technique can lead to back pain. An ergonomically correct work station is extremely important for the prevention of neck and back pain. Simple stretches or changes of posture can be very effective in minimizing stress on the spine.
What should you do if you experience back or neck pain?
Check your work station! Simple adjustments made to your chair, monitor height and position can go a long way to mitigating stress on your spine.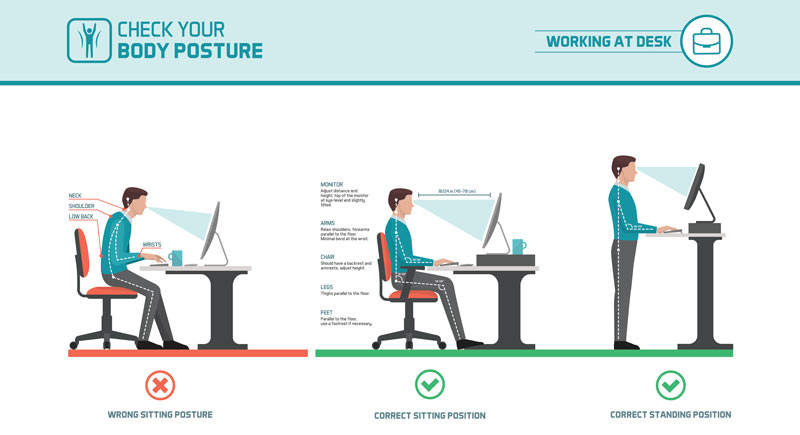 Sit up straight. If you are sitting with a rounded spine and a head forward posture, you are putting a great deal of stress on the lower and upper back. By placing a small cushion or lumbar roll behind your low back, you force yourself to sit up straight. 
Get up from your desk and go for a walk. Prolonged postures of any kind can lead to stress and pain in the back. Going for a short walk will take the pressure off those postural muscles that are stressed with prolonged sitting. 
An adjustable height desk is a great option. These are desks that allow you to change postures. You can move from a seated to position to working in standing. These desks are now readily available at most office supply stores or can be ordered online. 
Your employer may have an ergonomic consultant. This is also a good option to pursue if it is available.  
How appropriate sitting posture helps?
For people who have to sit for long hours, small changes into the work routine workstation can easily help to decrease pain and maintain a healthy back. Work desk should be at according to seat height, so a person's spine stays straight. Footrest, armrest & computer height are important prospects to consider for a healthy back. Lumbar roll is important to maintain a neutral spine.
How standing posture helps?
Office workers who have long hours of standing postures at work, the following advice are helpful. Footrests, appropriate computer height & appropriate footwear are important. Wrist support for keyboard users is very important for both prolong and standing office workers.
What exercises are helpful for office workers?
People who feel better withstanding, extension (bending backward) exercises are helpful to relieve pain, improve strength, improve core stability and improve function i.e., Mackenzie extension exercises.
People who feel better with sitting, flexion (bending forward) exercises are helpful, i.e., abdominal curls and knee-chest exercises.
Along with all exercises and education on posture advice, electrical modalities such as heat, cold, IFC, TENS, Ultrasound etc. are also helpful.
To put in a nutshell, it is very important that office worker gets appropriate advice from their physiotherapist because healthy back leads to healthy life.